Thank you.  Thank you.  Thank you.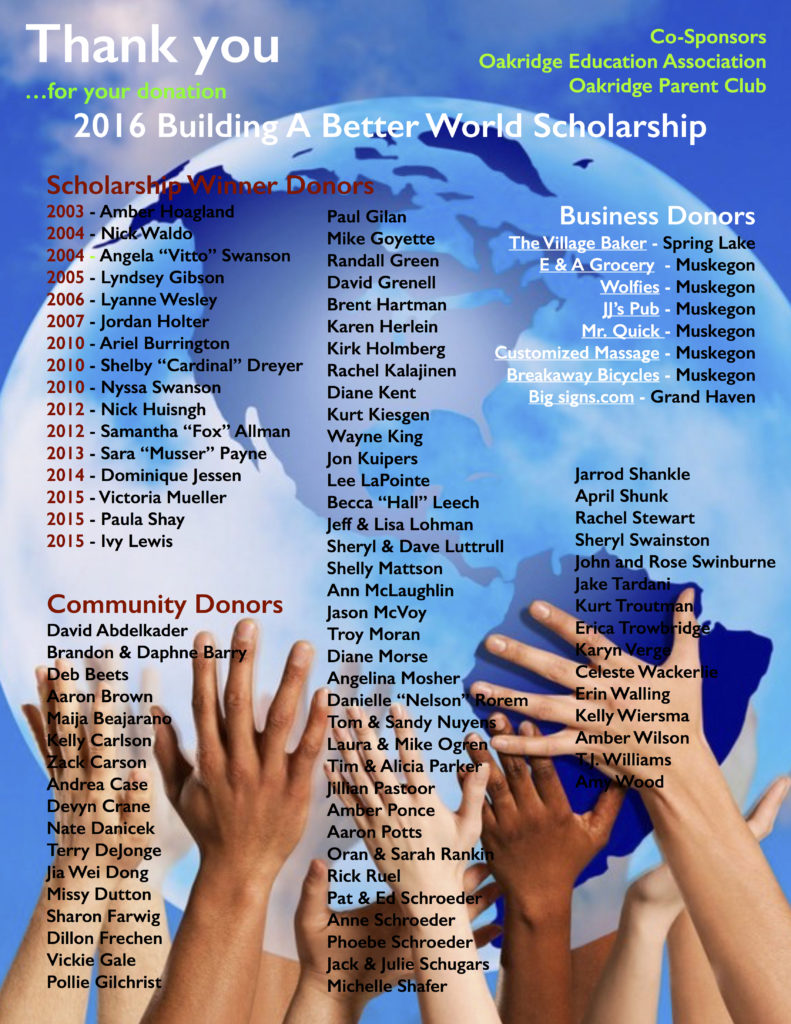 Please go here to meet McKenna and Savana our 2016 Scholarship Winners. 
This page is dedicated to all of our donors.  This scholarship doesn't survive, and those Oakridge kids who benefit wouldn't have the opportunity, if you all weren't so thoughtful. We thoroughly appreciate your generosity.  If you have donated to the 2016 Scholarship and your name has been omitted from the Donor List, please contact Mr. Wood – and he will fix it.
In addition we are working on attaining 501 C3 non-profit status for the Building A Better World Scholarship.  Our hope is that this change will allow us to better reach businesses that provide only tax deductible donations.  Stay tuned.  This change should occur by September of 2016.
Thank you all for your continued support of The Building A Better World Scholarship. Please spread the word and see you in 2017.
If you would like to donate… we have a number of options open to you.
Don't worry how much to give ($10, $20, $30, $100 – any amount)  It's that you join us that matters most.  We want your support more than your cash…but we need both!
You may donate online here with a credit card donation.  Your information is secured through Pay Pal.
or by check made out to  OHS Building A Better World Scholarship.  Mail to Oakridge High School – 5493 East Hall Rd – Muskegon, MI 49442.  or contact Bob Wood at bobwoodmsu@gmail.com 

or

616-402-8668